Today starts a new blog series on the "staying power" of longtime RESCUE! employees. First, we turn the spotlight on Jim, who makes sure you can find RESCUE! traps, repellents and baits everywhere lawn & garden products are sold.
What is your title? Vice President of Sales & Marketing.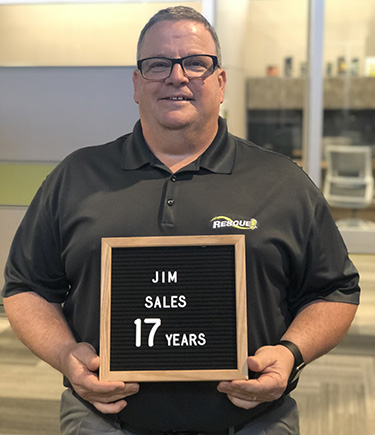 Since you've been at RESCUE!, have your job responsibilities changed? Yes. I began as VP of Sales tasked with growing company sales nationally with both new and existing customers, managing our outside sales representatives, and maintaining profit margins through pricing and programs. Now, in addition to all of those, I have added very talented members to our Sales team internally, here in Spokane and in Rhode Island; and I am tasked with directing the activities and budget of our very talented Marketing Department.
What do you enjoy about your job? I love winning at retail. I truly enjoy using our packaging to communicate with the consumer. I also enjoy helping our people to grow and be at their best. We focus on and use our people's super strengths to move the company forward.
What do you like about the company? I like that we're small enough to be flexible and turn quickly, but our products are successful enough that all of our customers need us.
When you were first hired, did you ever think you'd be at RESCUE! this long? Although I was excited to come here and I knew it was a good opportunity for me and for RESCUE!, I did not consider I'd still be growing sales 17+ years in!
What kind of changes have you seen at RESCUE! over the time you've been here? The biggest change I've seen is growth: of the operation, of the 'Brigade' as we add new members, of our positive impact on our community*.
What makes RESCUE! a special place to work? I believe what really sets us apart is our CEO, Rod. His vision for what we can be and where we can go, his integrity sets a high standard for how we do business, his philosophy of using the super strengths of our people. These ingredients in our "secret sauce" keep our people loyal, happy and engaged in doing what's right for RESCUE!.
*Jim describes our impact on the community in this video about serving Thanksgiving dinner at the Union Gospel Mission in Spokane: