In our series on the "staying power" of longtime RESCUE! employees, we turn the spotlight on Zelimir -- who's been with us 20 years, since the time he first came to the U.S.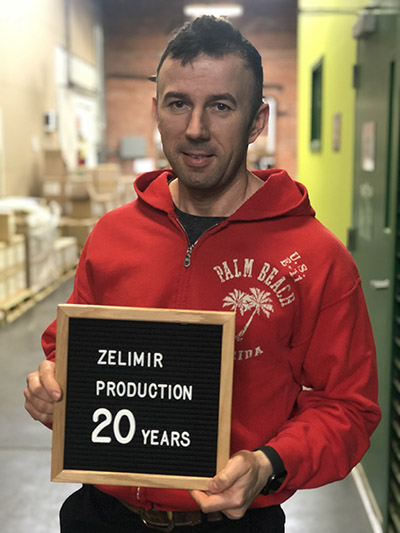 What is your title? Senior Maintenance Specialist.
Since you've been at RESCUE!, have your job responsibilities changed? Yes. I started in Production as a recent immigrant to the U.S., and now I'm in charge of making sure the machines we use in this area are running smoothly.
What do you enjoy about your job? I enjoy using the responsibilities and skills I have to be able keep our machines in good working condition, so our production can continue.
What do you like about the company? I like that this company is being successful year after year which gives us job security and opportunities to grow.
What kind of changes have you seen at RESCUE! over the time you've been here? In the beginning, everything (assembly of products) was done by hands with very few employees. Now we have grown a lot with so many different machines and products, and we are known much more in the world.
When you were first hired, did you ever think you'd be at RESCUE! this long? I never thought I would stay this long: 20 full years! I started in production when I first arrived in the USA, and I'm so happy where I am now.
What makes RESCUE! a special place to work? It's a special place to work because of the stability where this company stands. We are still growing and expanding, which gives me opportunity to do what I love.