We tried something new at the office this year: A "Biggest Loser" Competition. Just after the new year, the Human Resources Department challenged our employees to participate in a 12-week weight loss challenge.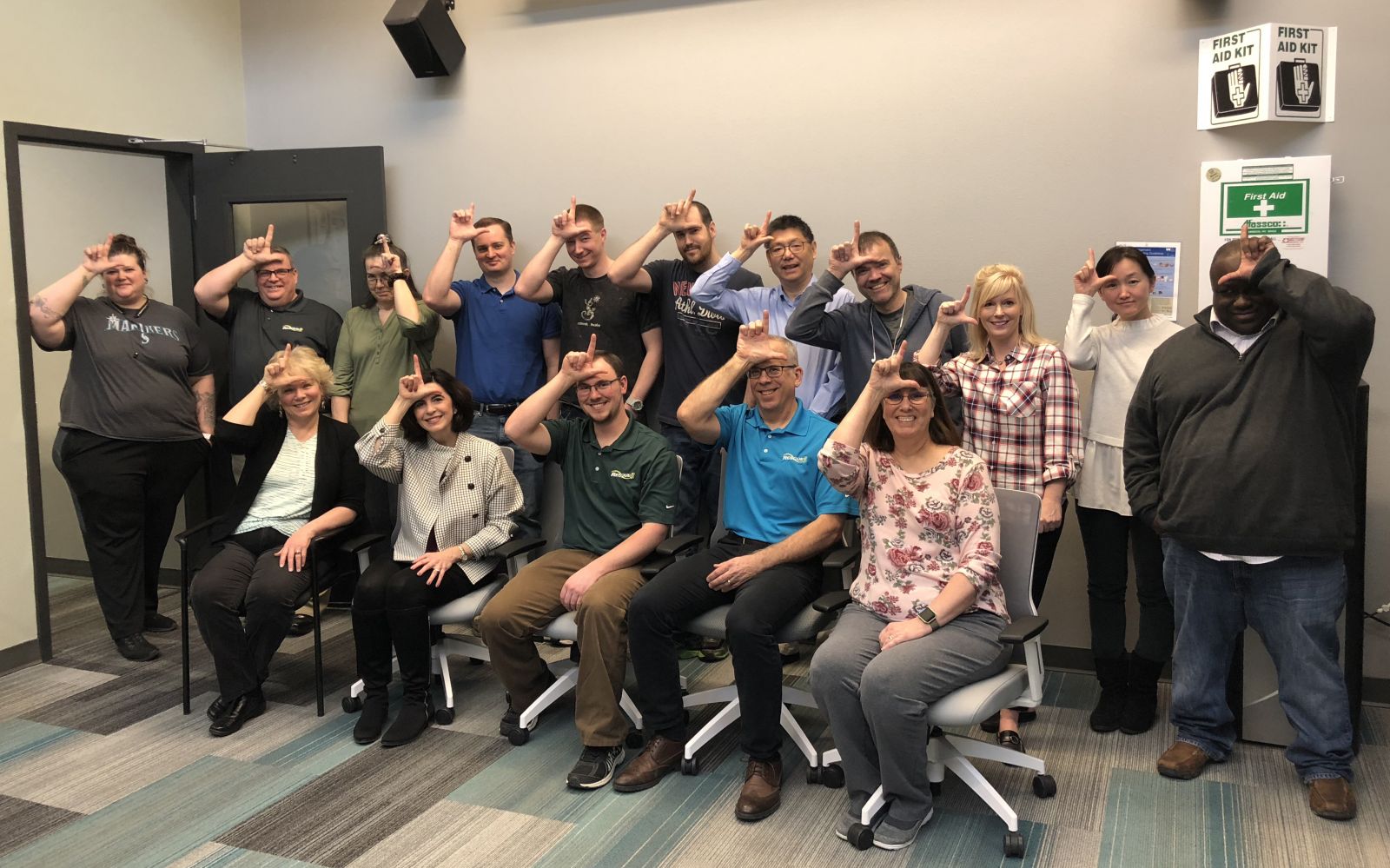 In all, 16 employees signed up. Every department in the company was represented... We had participants who work in the Accounting, HR, Sales and Order Management disciplines and mostly sit at desks; along with people who do more physical jobs in Engineering, Operations, Production, Shipping and R&D.
Although some pretty competitive individuals are employed at RESCUE!®, we found this felt like more of a team-building exercise than a competition because everyone encouraged each other in their weight loss goals.
By the end of the competition on March 27, the combined weight loss was 126 pounds... one whole person! Now that's corporate downsizing we can applaud!
Stephanie in Marketing walked away the Biggest Loser, dropping over 9% of her body weight. "I have a milestone birthday coming up this year that I was dreading, partly because I felt so out of shape," she says. "This competition was just the thing to get me motivated to make a change. I started tracking every meal and snack in the My Fitness Pal app and it's really helped me stay on track with my calories and daily macronutrient goals. I never thought I would actually win; I just wanted to feel healthy again. The competition was a positive experience and I'm proud of everyone who participated!"
Gerry, our VP of Operations, made big changes in his eating habits -- forgoing Egg McMuffins for Greek yogurt -- and stepped up his workout routines, including personal training and lots of spin classes. "The truth is I found the weekly Tuesday weigh-ins really motivating and that's what kept me on track," he said.
Chrissy in Order Management hovered in the top three every week, and ended up coming in third place. "I was always below my recommended weight until I hit 50," she explains. "Then, over the course of a year, I gained over 40 pounds. Since then, I have tried everything under the sun to lose, to no avail. My husband heard a TV ad for Spokane Weight Loss and we decided to give it a try as a last resort. I have been on the program since the beginning of January and have lost about 25 pounds. It's a doctor-supervised high-protein program with daily supplement drops. I couldn't be happier with the results, although it will be a longer road to reach my final goal. I am confident with this program that I will get there by camping season."
Carter, also in Order Management, came in fourth overall. "I went into the challenge thinking I probably wouldn't lose much," he said, "but I had a few extra pounds to rid myself of and I'm really glad I did! I feel better and have more energy and I've been eating healthier than I used to. I think managing portion control and cutting out unhealthy things like unnecessary sugar and fatty foods has helped immensely, and I plan on keeping these changes going so I can stay healthy and keep enjoying the benefits."
Great job, Losers!
(Oh, and the donuts in the above photo? They're just for fun -- none of the participants broke down and indulged in these treats after the winners were announced.)