With the official start of summer just around the corner, you might be noticing an uptick in the number of flies hogging your airspace. If you're searching for relief, you've come to the right place. RESCUE! Fly Traps—recently ranked the #1 Outdoor Fly Trap by realsimple.com—are the no-brainer choice for outdoor fly control. But we still get our fair share of questions. Here are some of the most frequently asked:
Can I hang my outdoor fly trap inside?
Don't even think about it! Any RESCUE! Fly Trap that is activated by adding water will produce a strong, offensive odor that you do not want in your home. We're talking about attracting an insect that literally eats feces, after all.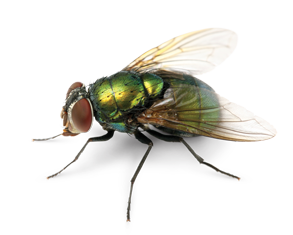 But my fly problem is indoors!
If you're seeing flies in your house, it's understandable that your instinct is to search for an indoor fly trap. But unless there's a rotting animal corpse in your house, the source of your fly problem is most likely outside. Using an outdoor fly trap can help control the outdoor fly population, which will lead to fewer flies indoors. Once you tackle the source, you can catch those remaining stragglers with the only RESCUE! Fly Trap meant for indoor use: the Indoor Fly TrapStik.

Where should I hang my Fly Trap?
Hang outdoors at least 20 feet away from any building entrances, windows, or areas with human activity.
How do I assemble and use my Fly Trap?
How do I dispose or reuse my trap once it's full?
Can I recycle my plastic fly traps?
After desired use and reuse, the reusable traps can be recycled. The jar is PET (#1) and the lid is PP (#5). Please check with your local recycling authority to see if these plastics are recyclable in your area.
I spilled my fly trap! How do I clean up the smell?
We recommend using one of these enzyme-based products to clean and remove the odor:
Tide, Oxydol, or Gain for Clothes and Hands
Odor Mute for Concrete and Patio Bricks
Nature's Miracle
Petzyme
Simple Solution Pet and Odor Remover
One Earth Natural
Biokleen Bac Out
White Vinegar Rinse; Mix Half & Half with Water
Baking Soda, Vinegar and/or Lemon Juice
For more RESCUE! Product FAQ, check out our FAQ Page.