(Continued from Part 4...)
That path keeps Sterling International as a family-owned company with the ability to chart its own course and set its own tone.
Schneidmiller's core business principles include integrity and consistency. "My ethics are not flavor-of-the-month ethics," he explains. "We aren't going to sacrifice our integrity to get an order. We don't make promises we can't deliver. We're not going to sacrifice a relationship just because we can do something better over here."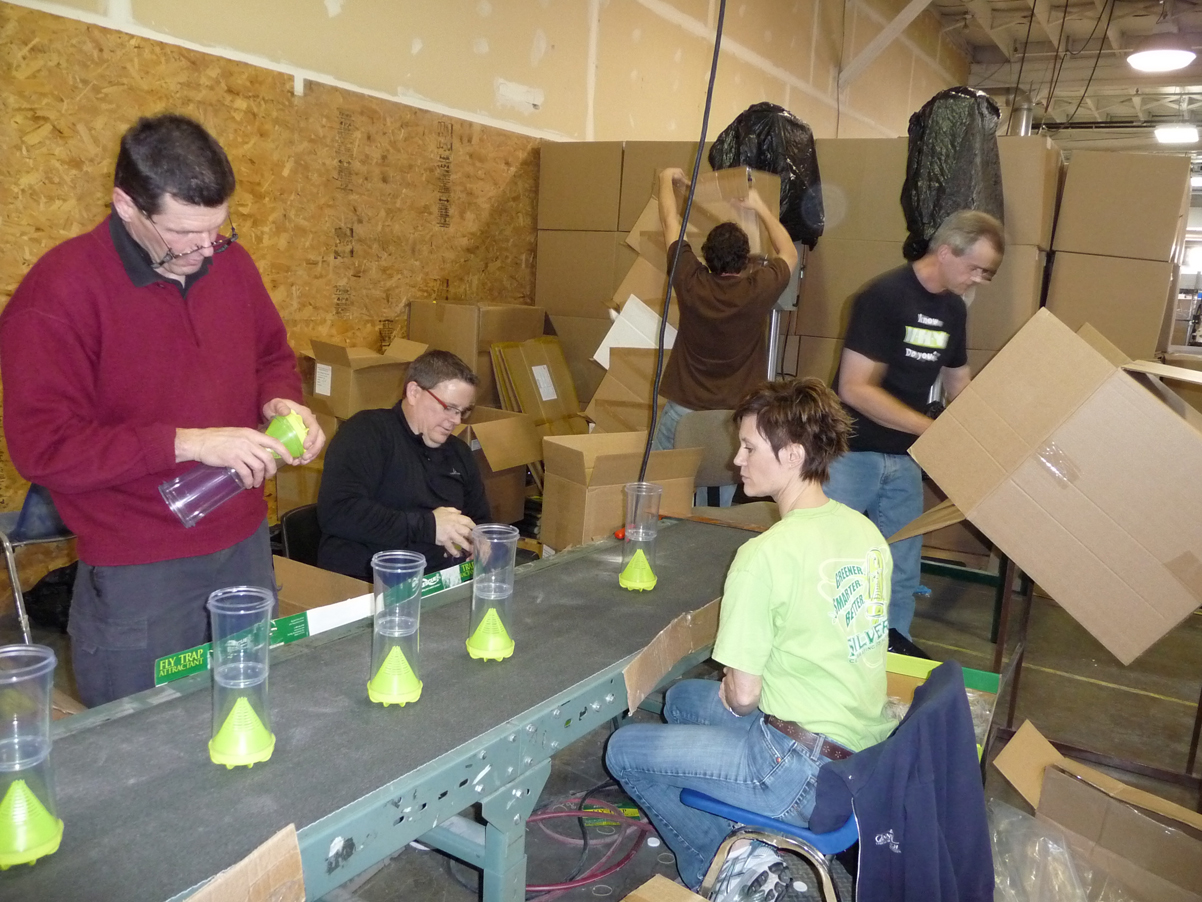 Schneidmiller also emphasizes the importance of teamwork among his employees. "People have their main responsibilities," he says, "but no one is above doing something else. In our company's history, there have been a number of times when we're getting toward the end of our season, there's an outbreak of an insect, and we need bodies on the assembly line. We know that since we're not the '800 lb. gorilla', we have to go above and beyond to stay in the buyer's mind. With integrity, we will do what it takes to get the product to the customer."
One example of that teamwork occurred late in the season after the Kelley's Killers debacle. "We got a call from L&L, a major distributor of our products. They had an account in Portland that was carrying another brand, but that company was done shipping product for the year. It was early afternoon on a Thursday. We were told that if we could get yellowjacket traps to them by Friday, they would buy our product.
"However, we didn't have the product made up, and that day's deadline for shipping had passed," he continues. "We pledged to do what we could. We had the office staff and everyone else out there assembling traps, and we held off the truck until 7. I personally loaded up the trailer. Thankfully, Spokane to Portland was one day service, so L&L was able to get product into the stores on Friday."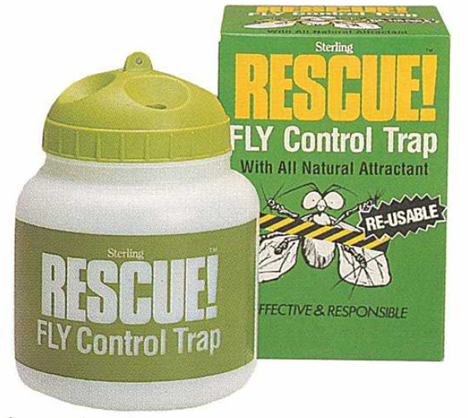 Adoption of the brand name RESCUE! came in the late 1980s. On the recommendation of a local ad agency Schneidmiller had retained, the name was chosen to counter some of the pest control brand names – names such as 'Attack' and 'Terminator' – that were negative and implied death.
Sterling also set itself apart from the pack by advertising directly to the consumer. "The 'standard of the industry' was advertising to the trade – that was what the 'big boys' were doing," he says.
Schneidmiller enlisted a local TV affiliate to produce the first commercials for the Reusable Yellowjacket Trap. "We spent $3500 to buy spots in the Spokane market. I was sweating bullets, hoping they would work."
They did.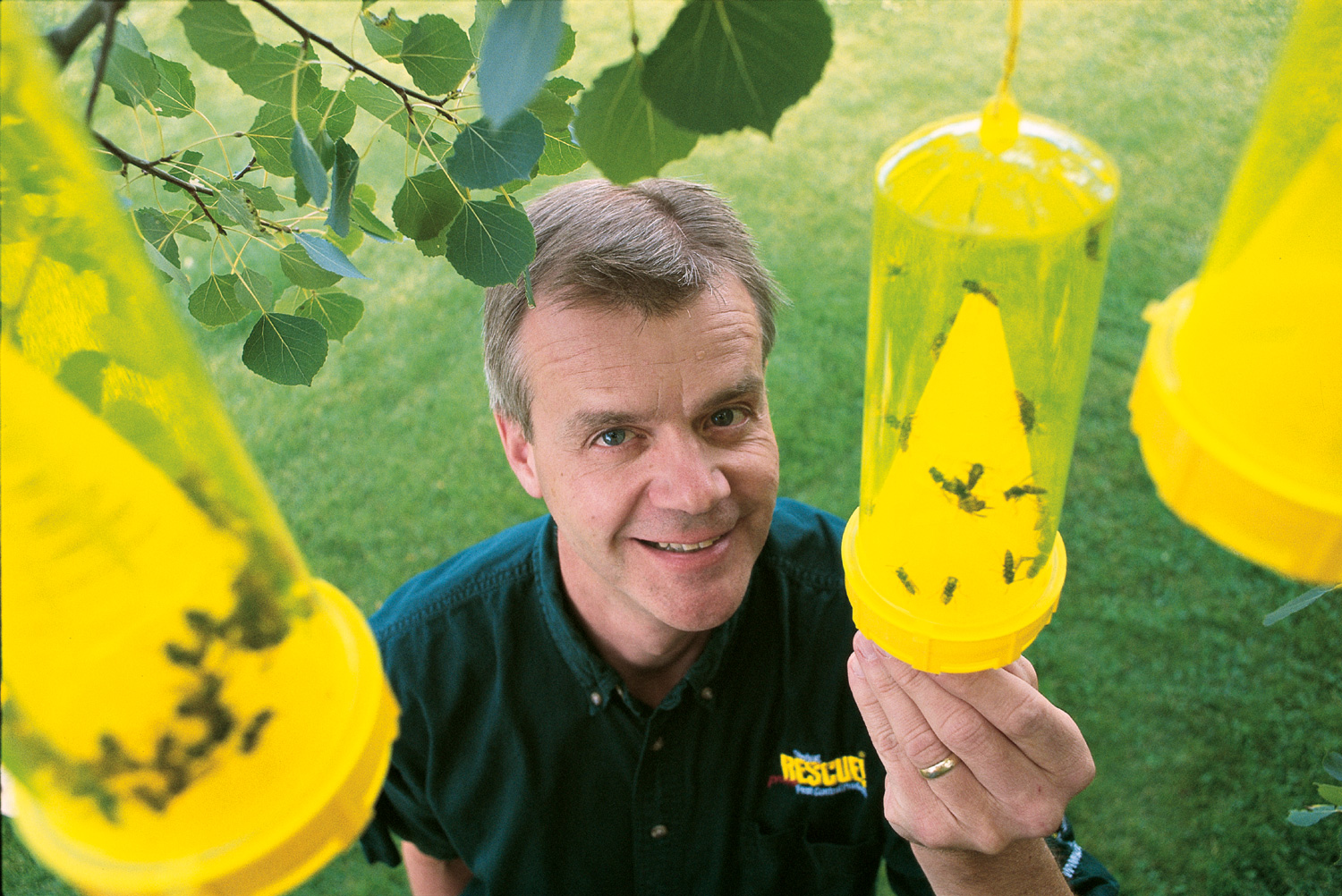 He recalls, "The ads broke on a Friday, and I remember going to Ernst, ACE and some other stores the next morning and they were all out of product. We had a display with 20 yellowjacket traps, and they all asked for more displays. I rushed back to our warehouse and delivered more traps to those stores all day Saturday, and every day while the ads were running. It dawned on me that, in targeting the consumer, we hit a nerve."
Rod Schneidmiller naturally wore a lot of hats as Sterling was just getting started, but in the decades since, he's staffed the company with specialists who each wear their own hat in the areas of sales, marketing, operations, accounting, human resources, engineering and research & development. While each department is important, Schneidmiller acknowledges that the long-term health of the company is dependent upon R&D, which has its own unique challenges.
"We have a player in our organization called the insect that doesn't listen to us... we have to listen to it," he explains. "That takes real expertise. Even though we have it, we're constantly learning and fine-tuning our approach."
Although he still is actively involved with the day-to-day operations of the company, Rod says, "I don't look over anyone's shoulder. We've got good people who know the vision. It's a culture with a can-do attitude, integrity, and grit."
Grit... tested, refined and fostered by the man who 37 years ago simply wanted to build a better fly trap.