Yellowjackets and honeybees are frequently mistaken for each other (as are paper wasps and yellowjackets, which we covered in a previous post). But aside from their yellow and black coloration, the differences between yellowjackets and honeybees are many.
Most of the time when people say they got a "bee sting", it was actually a yellowjacket. Yellowjackets aggressively sting for no reason, and unlike honeybees, they can sting multiple times.
And while some customers refer to our yellowjacket traps as "bee traps", we have always recognized how beneficial honeybees are to the environment and ecosystem. None of our yellowjacket traps attract honeybees.
Disposable Yellowjacket Trap Reusable Yellowjacket Trap
YELLOWJACKETS vs. HONEYBEES
Yellowjacket appearance:
Yellowjackets are bright yellow and black. Their bodies are not fuzzy. Yellowjacket queens are around .75 inches long, while workers are around .5 inches long.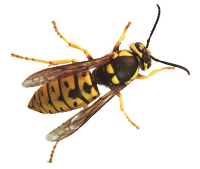 Honeybee appearance:
The 'yellow' on a honeybee's body is more of a golden brown or amber color. Their bodies are fuzzy, which allows them to capture pollen. They are slightly more than .5 inches long.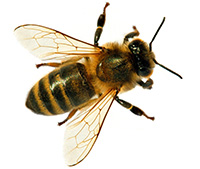 Yellowjacket behavior:
Yellowjackets are aggressive. They scavenge for meat and sweet liquids, which brings them in frequent contact with humans. They also feed on other insects.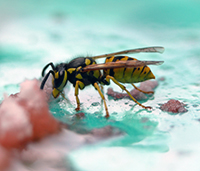 Honeybee behavior:
Honeybees are gentle unless their hive is threatened. They visit flowers for pollen and nectar, and generally keep away from humans.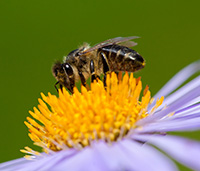 Yellowjacket stings:
Yellowjackets sting unprovoked, and can sting multiple times without dying. They bite flesh to get a better grip, and then jab their stinger in.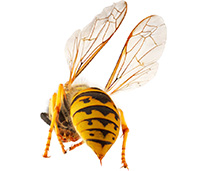 Honeybee stings:
A honeybee can sting only once. Part of the abdomen, digestive tract, muscles and nerves get pulled out of the honeybee's body along with the stinger.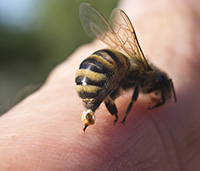 Yellowjacket nests:
Yellowjackets build nests out of paper fibers. Most species will build nests underground, but some yellowjackets will nest in a wall void or under an eave -- always covered and with a single opening (unlike paper wasps with exposed honeycomb-like nests).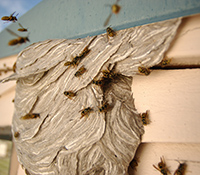 Honeybee nests:
Honeybee workers live in hives built from wax secreted by their bodies. Pollen and nectar are added to each cell as food for the developing larvae. Honeybees also live in man-made honeybee boxes that enable access to the combs and honey.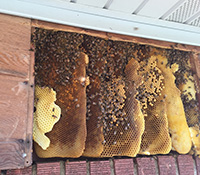 Yellowjacket benefits:
Yellowjackets forage for garden pests to feed their young. They do not have fuzzy bodies to collect pollen, and they don't make honey.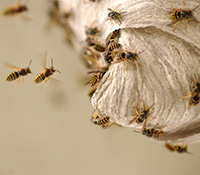 Honeybee benefits:
As prolific pollinators, honeybees are some of the most beneficial insects around. And of course, who can resist the honey they produce?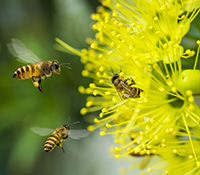 Ultimately, the danger posed by yellowjackets (especially to those who are allergic) outweighs any beneficial aspect of their presence -- so using traps is crucial. We do, however, want to do everything we can to preserve honeybees.
So it's important to note that yellowjackets are actually an enemy of honeybees. Yellowjackets will hover around the entrance of a honeybee hive and try to "gang up" on the worker bees who are guarding their home.
If the honeybee colony is weak, the yellowjackets win. They'll eat up the honey and pollen and also eat the honeybee workers themselves. As if that's not bad enough, the yellowjackets will also devour the unborn honeybee brood.
RESCUE! Yellowjacket Traps keep honeybees protected by catching only the aggressive yellowjackets.