We're always happy to be a buzzkill at an outdoor event -- especially Pig Out in the Park, the annual food & music festival in our hometown of Spokane, WA.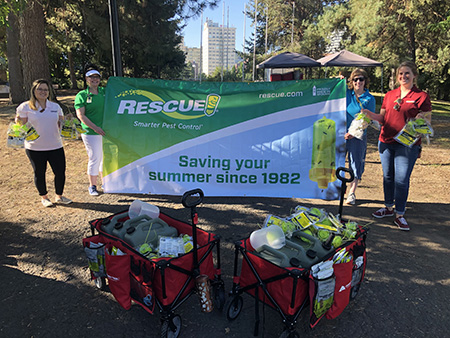 Whenever you have food and beverages outdoors in late summer, yellowjackets invariably try to join the party. This year, we donated over $1300 worth of out yellowjacket control products to ensure that Pig Out attendees stay safe from yellowjackets.
Our Customer Service, Sales & Marketing employees distributed 75 Yellowjacket Traps, 100 Yellowjacket Repellent GoClips and 25 Yellowjacket Repellent DecoShields in advance of the event's opening day.
"It's part of being a good neighbor and supporting our community," said Rod Schneidmiller, founder and President. "Pig Out celebrates the end of summer in our beautiful Riverfront Park. We're happy to do our part to ensure an enjoyable time for attendees and vendors by keeping the stinging insects away."
RESCUE!® and Pig Out both got started in the same era. While Pig Out celebrates its 40th anniversary this year, RESCUE!® is just a few years younger, celebrating our 37th year as a Spokane-based business in 2019.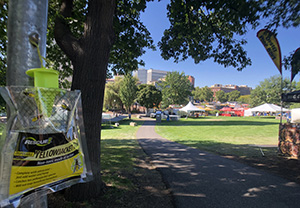 The company got its humble start in a residential garage in Millwood and now sells yellowjacket traps, repellents and other insect control products all over the world.
The 40th annual Pig Out in the Park runs through Labor Day, offering over 100 free concerts and 250 menu items from 57 food vendors.
Find a retailer near you that carries RESCUE!® Yellowjacket Traps & Repellents.